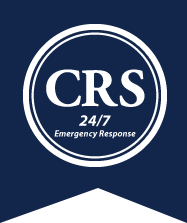 We don't just remediate hazards,
we help prevent them.
EMERGENCY RESPONSE EXPERTS
CRS works with insurance agents on a regular basis and can assist you with any restoration or reconstruction project.  Our crews are on call 24 hours a day, 365 days a year to assist you.  During any type of issue, CRS can provide quick peace of mind.  And we have teams spread out in Colorado and Arizona ready to respond today.
WHY IS CRS UNIQUE
Regulatory Knowledge:  First of all, CRS was created in 2004 to meet the rigid infection control and regulatory compliance rules of a large healthcare system. Since then, our business has expanded, although we continue our commitment to the highest standards in the industry.  As a result, quality and safety are priority number one!
Environment Experience:  In addition, CRS is an all-inclusive emergency and environmental contractor.  Therefore, our expert teams can identify and remove a variety of hazards.  Hence, we can respond to:
Asbestos
Lead
Meth
Mold
Bio Hazards
Furthermore, we have trained staff, the proper equipment, and experience to handle your project safely at a fair price.
Fire & Water Damage:  CRS also can provide fire and water damage restoration.  In any emergency, our 24/7 teams can respond quickly with the right equipment to decrease property damage.  As a result, you can trust that CRS will provide the needed support to care for your building during a fire, a flood, sewage backup, pipe break, or any water intrusions.
Build Back:  CRS has skilled workers that can rebuild and restore your building to its original state.  If structural work is needed, CRS has the resources to complete your project.
Building Safety:  Also, CRS can support properties in the area of building safety to include:
Firestop penetration repairs to protect from damage and liability of a fire;
Infection control barrier construction; and
Environmental monitoring services to ensure safety and regulatory compliance.
CRS is here to help today and provide you with our top notch service and experience!