If your building has asbestos, you need a qualified asbestos removal team like CRS.  Asbestos was widely used in buildings and homes between 1945 and 1980. However, once the bad effects of asbestos were discovered, regulators quickly responded and provided a safe method of removal.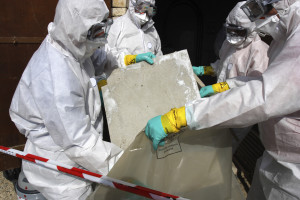 CRS workers have gone through the training to be certified to handle asbestos. This requires a week long course and also an annual class to refresh the training.  The workers are properly equipped and follow the strictest removal rules. We provide confidence to our clients that the area will be handled safely.  Because of the sever nature of this substance, there are agencies that regulate and inspect asbestos removal.  CRS follows all regulations to protect your belongings and people who may be working nearby the project.  We have internal staff that check and inspect projects as well to ensure we are in compliance at all time.

Call CRS and we will safely take care of your asbestos removal needs.
"We have a had a long standing relationship with Comprehensive Risk Services as we can trust them to deliver a highly professional and competent service on our asbestos projects."
Carl K.