Biohazard cleanup should never be done on your own.  The germs present extreme health risk to all who are exposed and cleanup should only be done by highly trained experts like those at CRS.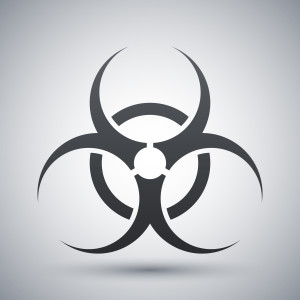 CRS provides the following biohazard cleanup services, but can handle any issue:
Sewage Spills and Backups
If you have had a sewage system back up or septic tank spill the resulting mess can be severe.  Human waste poses a severe health risk and can leave a lot of damage.  When it comes to sewer cleanup, building owners can count on CRS' experts to remove all traces of sewage, clean the area and reduce further damage.
Bloodborne Pathogens
CRS experts remove and dispose of bodily fluids, tissue and other harmful substances resulting from accident, trauma, crime or death. Our teams have handled many calls and understand their nature. Our trained teams will maintain open communication with the parties involved while they clean, disinfect, deodorize the structure.
Crime Scene Residues
From fingerprint powder and chemicals to tear gas and pepper spray, CRS can clean and restore your building after a crime scene.
CRS' expert teams are trained and certified in all types of biohazard cleanup.  If your property has been damaged by biohazard materials do not wait, call CRS immediately.  We have a fast response time for emergency calls.
"Chris and I both want to thank each man on the crew that has been helping us get that
area back to its original condition. You have a dedicated and very professional group of
guys… You saved us from a serious disaster."
Kirk K.