CRS prides itself on being a professional resource to our clients. To do this, we ensure our teams are properly trained.  Most of what we do for our clients is heavily regulated and safety is our number one priority.  Our employees are our greatest asset and our company is committed to investing in training and safety.
This week, some of our Colorado team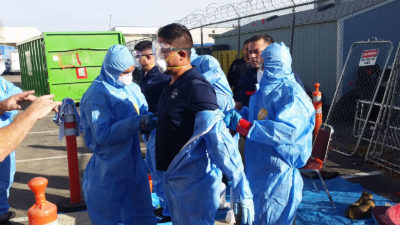 s participated in a 40 hour hazwoper training (Hazardous Waste Operations and Emergency Response Standard). This training session includes classroom study as well as hands-on practice.  This is one of many certifications CRS provides for our employees to keep them safe.  Once a professional takes an initial training, annual refreshers must be completed so that employees stay up to date on all regulatory requirements.
CRS professionals also undergo training to be c
ertified and qualified to perform:
Asbestos Abatement (AHERA)
Lead Abatement (EPA)
Water and Mold Mitigation (IICRC)
Methamphetamine Decontamination (State of Colorado)
Firestop (Hilti, STI & FCIA)
As a property owner you can be assured that when you call CRS, you will be greeted by a well-trained professional who will quickly address the issue at hand while focusing on safety and regulatory compliance, because CRS really does invest in the best!
Call us today so we can help you with your environmental needs.