CRS Emergency Teams Preserve Parts of Historic Trinity United Methodist Church After Flood!
On June 28, 2016, torrential rain and hail caused wat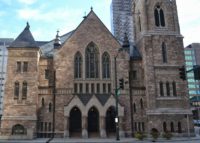 er to flood into the lower level of Trinity United Methodist Church, a historic landmark in Denver, Colorado.  CRS's 24/7 Emergency Response Team responded at 8:15 p.m. and arrived on site within 45 minutes to assist in efforts to preserve the church and avoid severe water damage.
CRS' team of expert flood cleanup professionals extracted water from 10,000 square feet of space, using close to 90 pieces of drying equipment to properly mitigate the water. Teams stayed until 4:00 a.m. to adequately dry out the flood water and minimize water damage.  After this initial response, CRS then:
replaced 5,000 square feet of carpet,
cleaned and disinfected tile, and
patched and painted damaged walls.
The notable Trinity United Methodist Church, built in 1887, has many unique
features that assimilate "Modern Gothic" architecture. The church is proud of its custom oak based trim in the lower levels of the building. CRS salvaged this valuable piece of history by strategically drilling holes and injecting air into the wall cavity above the trim.
This was not the f
irst time Trinity United Methodist Church experienced heavy weather damage. In 1864, its original location at 14th and Lawrence in Denver, Colorado suffered from rain and snow melt. Damage was severe, causing services to be held at an off-site location. To learn more about Trinity United Methodist Church's history, Click Here
CRS is honored to service the church and play a role in protecting this historic landmark. Browse other media sources covering the story: Trinity Church Media Coverage.
Learn more about CRS, our expertise, services and recent projects by visiting our website at: www.crs-info.com. If you need fast, expert help, please call us: 888-882-6228. We are available to help you 24/7!