At Comprehensive Risk Services (CRS), a clean job is a job that protects our clients' assets.  We perform services in buildings that have to stay operational.  The safety and security of a construction zone is our number one priority. 
CRS was recently hired to protect three businesses in Downtown Denver from dust and debris during a complete roof replacement.  Progressive Roofing recommended our services to these businesses after they were hired to replace the roof.
CRS used scaffolding to cover approximately 25,000SF of a 15FT high ceiling and a total of 38,000SF of warehouse space.  Air Filter Solutions, Peak Furniture and Milwakee Electric Tool Corp. were able to continue operations while construction was being completed.
In a hospital, containments provide infection control which is crucial to protect patients and staff.  The Centers for Disease Control (CDC) has i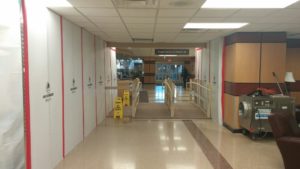 mplemented very strict guidelines that healthcare system are required to follow.  CRS has incorporated these best practices into all of our containment services.
Why CRS?
We have built thousands of containments within a variety of environments.
We will not cut corners and put your property or people at risk.
We are often hired by other contractors to build their project containments.
The people and property of our clients are of utmost importance!
Call CRS today if you have a project that needs to be expertly contained.