A sewage loss can be dangerous to first responders and building tenants if it is not handled correctly. CRS professionals are available 24/7 to help you properly mitigate your building and prevent any health hazards. CRS has complied helpful safety tips that every facility operator should follow when faced with a sewage loss:
Basic Hygiene Practices for Workers:
Wash hands with soap and water immediately after handling human waste or sewage.
Avoid touching face, mouth, eyes, nose, or any open sores and cuts while handling human waste or sewage.
Removed soiled work clothes before eating.
Eat in designated areas away from waste and sewage-handling activities.
Do not smoke or chew tobacco or gum while handling waste or sewage.
Keep open sores, cuts, and wounds covered with clean, dry bandages.
Clean contaminated work clothing daily with 0.05% chlorine solution (1 part household bleach to 100 parts water).
Personal Protective Equipment (PPE):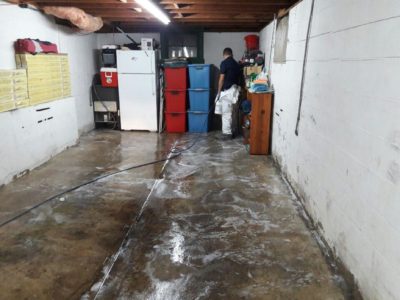 Goggles: to protect eyes from splashes of waste or sewage.
Protective face mask (e.g., surgical mask) or splash-proof face shield: to protect nose and mouth from splashes of waste or sewage.
Liquid-repellent coveralls: to keep waste or sewage off clothing.
Waterproof gloves: to prevent exposure to waste or sewage.
Rubber boots: to prevent exposure to waste or sewage.
Vaccination Recommendations:
Vaccination recommendations for workers exposed to sewage or human waste should be developed in consultation with local health authorities.
Tetanus vaccinations should be up to date.
Consideration also given to: Hepatitis A, Hepatitis B, Polio, Typhoid fever.