What is Firestop?
Commercial buildings call out for fire and smoke rated walls to stop the spread and limit the damage caused by a fire.  Therefore, proper firestop ensures that these walls are sealed tight.  According to fire code, contractors have to properly fill holes created by all construction trades on a fire rated wall.
CRS and Firestop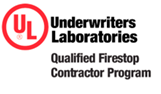 CRS' teams come with ten years of work and training in proper firestop seals. We are identified as a Qualified Firestop Contractor by the UL Underwriters Laboratories which is a very rare certification.  And our employees are both Hilti and STI trained.  We pride ourselves on being a strong resource to owners and building partners.  CRS provides the following services:
Third Party Services: General contractors can separate firestop as a scope of work within their contract.  CRS will work with the trades to seal off all holes before a project ends. Because of this, an owner knows that all firestopping is done right the first time!
Survey and Track: We will walk every square foot of rated walls and document issues.  This survey serves as a tool for owners.  They can create a plan to repair issues with a budget and schedule. Common issues found in audits include

unsealed open joints,
blank open holes,
unsealed pipe and duct holes,
multiple products on one seal, or
unsealed cable holes.
Find and Fix: CRS is hired to find, track and repair firestop issues within an area. Once a project is complete, we provide the owner with a nice package that includes before and after photos of services.
"During the Platte County Memorial Hospital (Wheatland, WY) tJC Survey, the life safety engineer was impressed with the process/methodology that was used in the Fire Stopping process CRS uses.  Thank you again for all the work you do and helping us to maintain a safe environment for our patients, staff, and hospitals."
Patrick C.