CRS can provide your build back services
Once your water or fire damage has been properly mitigated, CRS has skilled tradesmen that can provide build back services to your damaged areas and restore your building to its original state. We recognize how frustrating it is to have your home or building damaged and it is our goal to meet whatever timeline is required to return the area to its intended use.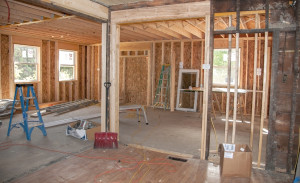 CRS employs tradesmen who can perform the following in-house build-back services: drywall, framing flooring, general carpentry and painting.
As a general contractor, CRS maintains a pre-qualified list of subcontractors who can perform specialized trades. We will serve as the project manager to hire, oversee and guarantee workmanship of specialty trades such as: electrical, plumbing, mechanical, roofing, ect., according to the scope defined.
When damage arises due to a water or fire emergency, we are here to not only handle your emergency, but also to provide build back services.  Quality work at a reasonable price.  Call now for a fair quote from your build back services experts.
"I was very pleased and impressed with the re-building of my home, and that you and your efforts went above and beyond your contract obligations and expectations. The results of your team efforts was a beautiful home, not only impressive to me but to others that have come to visit."
Cathy B.