Hide and Seek is never a Game You Want to Play with Mold
Could mold be hiding behind your walls? Worse yet, is mold present in plain sight?
Common Signs That You May Have Mold:
Smelling Mold

If the smell is stronger in certain areas that may be exposed to more moisture, you could have mold growing. Mold can also grow in your HVAC system.

Seeing Mold

Sometimes you can see mold, for example in a cabinet under a sink, in tile grout or on the bathroom ceiling. You may think it's not a problem if it is small amounts but remember mold can grow and spread very quickly!

Feeling Mold

Mold can cause physical symptoms and illness such as: asthma, sore eyes, itchy skin, runny or blocked nose, sneezing, coughing, or a sore throat. Black Toxic mold can cause more serious symptoms.
If your symptoms decrease outside the home or building or if multiple people suffer similar symptoms while in a home or building, mold could be the culprit!

Moisture

Mold loves moisture and can become a problem if there have been water leaks or flooding, condensation issues, excess humidity, or any other history of water problems.
Often mold is discovered deep within walls unexpectedly and in the middle of a construction or renovation project which has a tight deadline.  Perhaps, something is moved under a sink and mold is suddenly noticed.  If there are mold that can be seen, there is undoubtedly mold hiding deeper and some sort of water source feeding the growth.
CRS teams have extensive experience with handling mold.  For a school or a hospital, it is absolutely pertinent for the health of occupants and staff to handle mold quickly and carefully.  This is why they call CRS because we know how to contain and clean mold spores so that everyone stays safe and the health of the building is restored.
Our teams are t
rained on how to confirm with confidence that the mold has been removed completely.  Surface cleaning of mold without finding the source and removing damaged areas will only serve as a Band-Aid to the issue and spores will be allowed to grow and spread causi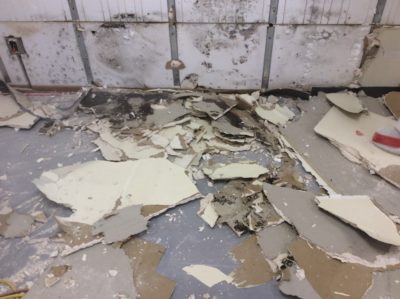 ng continual and mounting risk to the health building occupants.
CRS has worked on hundreds of mold jobs within occupied hospitals and schools because we uphold the highest standards of mold remediation.
Mold is not something to handle lightly as those tiny spores can cause major damage.
Call CRS today and we will ensure the safety of your building is restored once again.